PRE-EUREC4A 2017 (20 Jan - 20 Feb)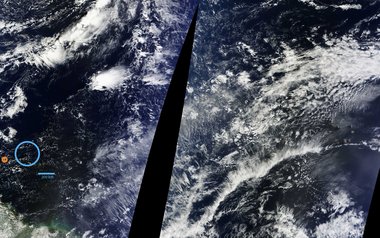 During the Jan-Feb time-period of EUREC4A we performed a virtual field experiment. In 2017 this consisted of daily weather and instrument reports from the BCO as tabulated with the daily MODIS-Aqua satellite imagery below. As shown here, each image spans the region for 5ºN to 30ºN and from 20ºW to 60ºW. This places the BCO about one third of the way up the image on the far left corner as highlighted by the orange circle. The anticipated area of flight operations, and a sample scale are shown in blue.

The daily reports can be obtained by clicking on a particular day's date, clicking on the image will enlarge that day's MODIS image. They reports vary in length, and usually include imagery from satellites or BCO instruments, and are intended to show different aspects of the observed cloud fields. These discussions should help calibrate our expectations for the actual field study in 2020. Follow on preEUREC4A experiments, increasingly ambitious, are planned for 2018 and 2019.