Below is a list of the participating aircraft and current plans for their configuration. Some of these plans are still being evaluated for their feasibility and may be changed.
ATR-42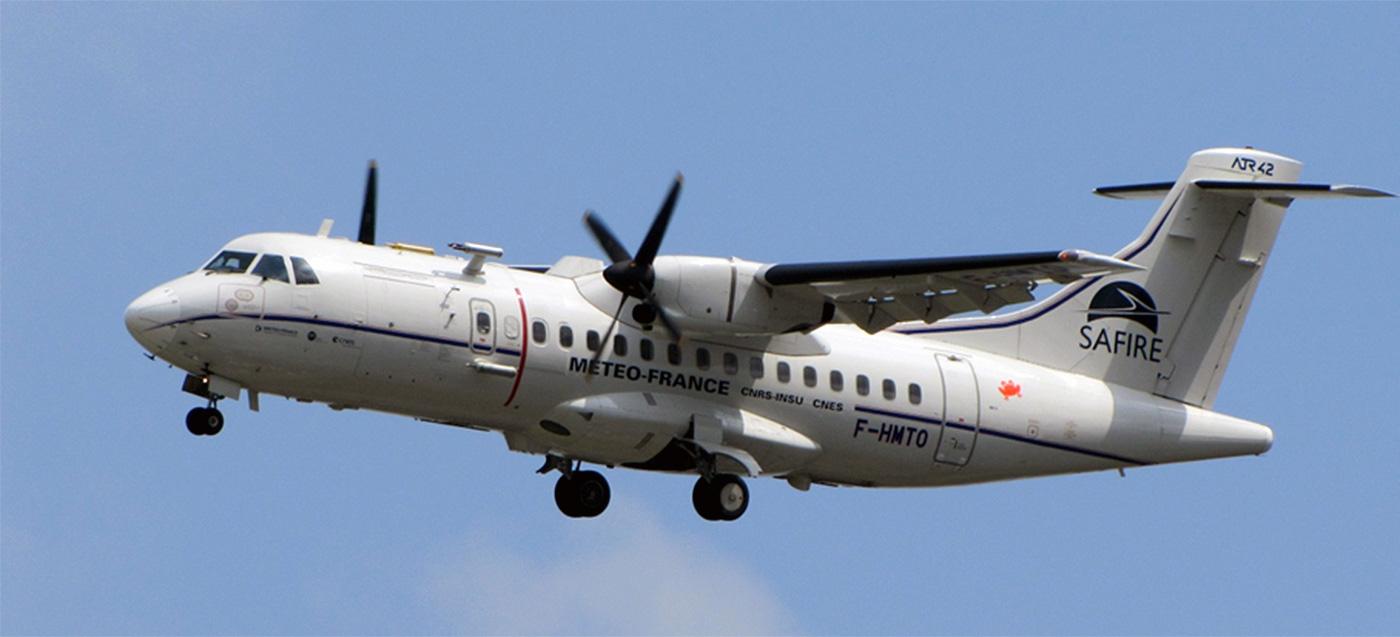 The French ATR-42 is a bi turbo-prop aircraft from SAFIRE that has the capability of flying in the lower troposphere (ceiling at about 8 km) with a maximum range of about 1800 km. It will fly a series of low-level legs just above cloud base (around 1 km), about 100 km long and spaced by about 20 km, as a way to sample the cloud field within the area encompassed by HALO circles. A particularity of the aircraft instrumentation is that it will include sideways and vertical-pointing lidar and radars that will probe the atmosphere horizontally and vertically, aiming at measuring the cloud fraction at cloud base. The last leg before refueling will be flown below cloud level, to measure surface turbulent fluxes, temperature at the sea surface and in the sub-cloud layer, and near-surface radiation. Given the mean science speed of the aircraft (about 100 m/s) and the endurance expected for the envisioned payload, the ATR-42 will make two four-hr flights per day bracketed by the daily nine-hr flight of HALO.
Planned ATR
Instrumentation:


In situ State
Variables:
high-frequency water vapor, temperature, pressure and 3D wind; momentum and heat fluxes, liquid and total water contents; droplet size distribution (0.5-6000 μm); 2D particle imaging (25-6000 μm).
Cloud Properites:

The BASTA and RASTA Cloud Radars are Bistatic 95 Ghz Doppler cloud radars to be deployed in sidewards looking mode Upward and Downward looking 95 Ghz Doppler cloud radar with six antenna configuration for wind-vector retrievals.



LNG Lidar:
Measures three wavelength (1064, 532 and 355 nm) high spectral resolution polarized backscatter lidar (sidewards, upwards or downwards pointing).
CLIMAT-AV:

Three channel downward staring measurements of infrared irradiance at 8.7, 10.8, and 12.0 μm Hemispheric broadband upwelling and downwelling for measureing sea-surface temperature with a split window technique.

Pyrgeometer Pyranometer:

Hemispheric broadband upwelling and downwelling thermal infrared and visible irradiance measurements.
HALO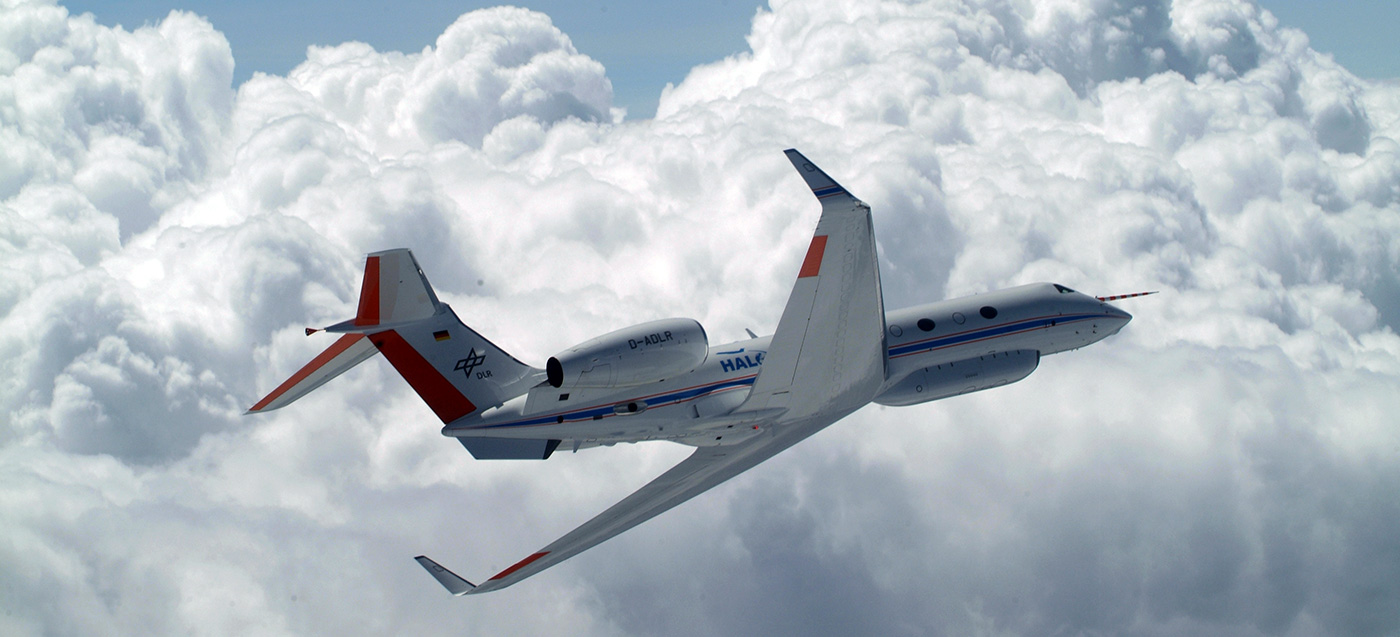 The German high altitude and long-range research aircraft HALO is a modified Gulfstream G550 business jet with a long endurance (more than 10 flight hours), a long range (about 8000 km), and a high ceiling (15.5 km). In cooperation with the DLR and the Universities of Cologne, Hamburg, Leipzig and Munich, it will be equipped with an extensive set of remote sensing instrumentation. It will primarily fly large (200 km diameter) circle patterns over a fixed spatial location, over the flight area sampled by the ATR-42. Extensive dropesondes (order 50 per flight) and continuous remote sensing will characterize the large-scale environment and cloud field. Eleven nine-hour flights are envisioned, with roughly 8 hours on station per flight.

Planned HALO
Instrumentation:


In situ State Variables:
In situ water vapor (diode laser), temperature, gust probe winds and aircraft state vector. Pyrgeometer Pyranometer: Up and downward short wave and long wave broadband irradiances (in de- velopment)
HAMP Cloud Radar:

Downward staring polarized Doppler 36 Ghz cloud radar



HAMP Radiometer:
Downward staring Microwave Radiometers with 26 channels between 22 and 183 GHz
WALES Lidar:

Downward staring water vapor DIAL and backscatter HSRL lidar



SpecMACS & SMART:

Up and downward looking hyper spectral (300- 2200 nm) radiance and irradiance measurements Downward looking hyper-spectral (400-2500nm) line imager

IR Imager:

Downward looking (10.8 and 12 μm) two channel line imager (in development)
AVAPs System with four channel receiver support- ing Vaisala RD94 Sondes (Ten Channel Receiver in development)